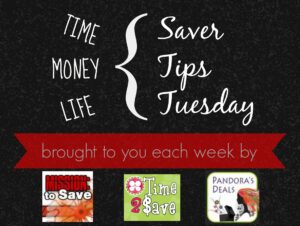 Welcome to Saver Tips Tuesday!
Check in each week to see lots of helpful tips for your everyday life. We will be talking about DIY projects, recipes, tips for organization, ways to repurpose items and more! You might see a recipe post that is a "time saver", a budgeting post that is a "money saver" or a rainy day activity for the kiddos that is a "life saver"! There are so many awesome ideas out there and we want to Link and Learn from each other.
This link-up is being hosted by 3 great blogs:
Each week we'll highlight tips from our own sites and then you can link up your own posts via the linky tool (any kind of "saver" tip). The linky will be on all 3 sites- so your post will get a ton of exposure! Each week, we will also highlight the Top 3 posts from the linky during the previous week.
Do you have nail polish that you don't use anymore? Or maybe you just saw a freebie deal using coupons. Check out Mary's Alternative Uses for Nail Polish. Not just for your fingers!
We have have 13 super helpful Thrift Store Shopping Tips. You may some find some amazing deals (practical and priceless!)
No need to break the bank to create a Disney themed birthday party. Lindsay has some thrifty and fun ideas to throw a great Inexpensive Disney Movies Party.
Here are the Top 3 Posts from the Linky Last Week:
5 Ways to Save on Landscaping- A Mitten Full of Savings
What to Do with 40 Pounds of Beef- Simple Saving Savvy
2 Ingredient Pineapple Cake- Couponing for Freebies
Inlinks code