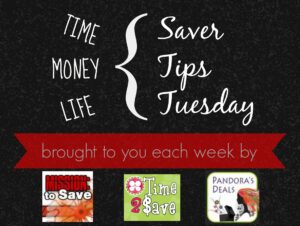 Welcome back to Saver Tips Tuesday – Valentine's Day Edition!
Check in each week to see lots of helpful tips for your everyday life. We will be talking about DIY projects, recipes, tips for organization, ways to repurpose items and more! You might see a recipe post that is a "time saver", a budgeting post that is a "money saver" or a rainy day activity for the kiddos that is a "life saver"!
This link-up is being hosted by 3 great blogs:
Here are this week's top tips:

Each week we'll highlight tips from our own sites and then you can link up your own posts via the linky tool (any kind of "saver" tip). The linky will be on all 3 sites- so your post will get a ton of exposure! Each week, we will also highlight the Top 3 posts from the linky during the previous week.
Here are the Top 3 Posts from the Linky Last Week:
How to Make Valentine's Day Fit Into Your Budget- A Mitten Full of Saving
How to Save on Clothes- It's a Fabulous Life
Frugal Iced Coffee Recipe- Couponers United
Inlinks code: