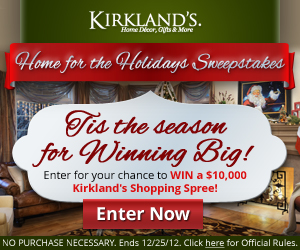 Let's start Saturday off right – and win some free goodies from Kirkland's!
Hurry over to Kirkland's to enter their Home for the Holidays Sweepstakes – it's easy to enter and you'll have the chance to win a $10,000 Grand Prize Shopping Spree as well as several awesome gift cards worth $1000, $500 or $100 – and fabulous Instant Win prizes as well!
How to Play – (You can try every day!)

Head to Kirkland's Home for the Holidays page to complete some of your favorite Holiday activities – like unwrapping a present, decorating a tree, or playing the Gift Exchange Instant Win Game.  You'll be entered to win one of the great prizes above for each activity – but my favorite is the Instant Win Game.   Play the Instant Win Gift Exchange to possibly score cute home decor items!
I played and I exchanged a Monterey Wall Plaque for a Cupcake Carousel – but I lost…:(  And then it gave me a $10 Off $50 Coupon!!
I love Kirkland's and I could do a lot of damage with $10,000 – so I'll probably be back to play a few more times this week :)  Let us know if you win something!!