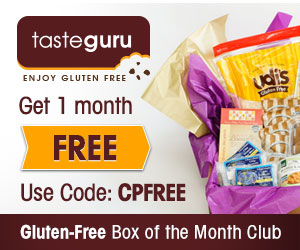 Are you Gluten-Free, or do you know someone who is?
Taste-Guru is a new Gluten-Free company that delivers the best-tasting gluten-free food on the market, right to your door. It's a great way to try out new products and find out what you like (or don't).  You can get your 1st month FREE with code CPFREE, and only pay Cost of shipping!  (Shipping is $11.95)
Each box contains 5 Lbs of Food and is 100% Satisfaction Guaranteed!
Use Taste-Guru to help you finally ENJOY gluten-free food and learn what's great out there.  Taste Guru prides themselves on:
- Cost efficiency of the box
- Brand awareness – helping to promote the small companies with quality products as well as the larger, well-known companies
- Passion for the gluten-free lifestyle – there is a personal connection (gluten-free founder, gluten-free employees); want to help others through their GF journey
- Will only promote and include gluten-free products that pass the test – will not give customers food that isn't worth it
- Resource for community – TG Magazine's tips & recipes; Spreading awareness and promoting brands and bloggers via social media
- Our personalized recipe card that goes in each months box
- Convenience factor — people starting out gluten free don't know where to start
- We are like their gluten-free personal shopper! relationships w great vendors, small mom & pop shops and bigger vendors that give us the newest products out there.