Welcome to Saver Tips Tuesday!  This week is a hodge podge of tips and recipes – link up any tips you've been excited about lately!
Each week we'll be talking about DIY projects, recipes, organizing tips and more!   Anything is game – whether it's a "time saver", a "money saver" or a tip that's a "life saver"
 There are so many awesome ideas out there and we want to Link and Learn from each other.
This week's Saver Tips
Thinking of starting a Fall garden?  It's a great feeling to use home grown produce in your recipes!  Kasey has some great  Vegetable Garden Basics, tips all gardeners should know.
It's only a couple week into school, but you're probably already looking for new lunch ideas for the kids.  I love Lindsays Lunchbox Makeover- Peanut Butter and Jelly Crepes.  Might even have to make a few extra for myself!
Thanks to a huge crop of zucchini this summer, I do have breakfast covered for a few weeks.  Check out my Classic Zucchini Bread Recipe.  It works great as muffins and they freeze well too!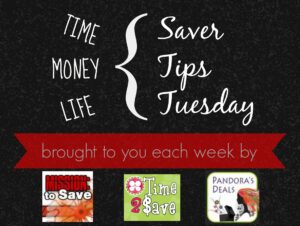 This link-up is being hosted by 3 great blogs:
Each week we'll highlight tips from our own sites and then you can link up your own posts via the linky tool (any kind of "saver" tip). The linky will be on all 3 sites- so your post will get a ton of exposure!  We'll also highlight the Top 3 posts from the linky during the previous week.
Here are the Top 3 Posts from the Linky Last Week:
250 Ways Thrifty People Save Money- Snails Pace Transformations
Toilet Paper Roll Wreath - Happy Deal Happy Day
Make Your Own Root Beer Syrup- Frugal Family Home