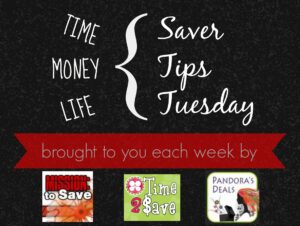 Welcome to Saver Tips Tuesday!
Check in each week to see lots of helpful tips for your everyday life. We will be talking about DIY projects, recipes, tips for organization, ways to repurpose items and more! You might see a recipe post that is a "time saver", a budgeting post that is a "money saver" or a rainy day activity for the kiddos that is a "life saver"! There are so many awesome ideas out there and we want to Link and Learn from each other.
This link-up is being hosted by 3 great blogs:
Each week we'll highlight tips from our own sites and then you can link up your own posts via the linky tool (any kind of "saver" tip). The linky will be on all 3 sites- so your post will get a ton of exposure! Each week, we will also highlight the Top 3 posts from the linky during the previous week.
Here are this week's host highlights:
In the USA we love to celebrate all kinds of things- especially with a good freebie!  Check out Mary's roundup of National Coffee Day Deals (good from now until 9/29- Official National Coffee Day)
Maybe you prefer to brew your own Joe.  Lindsay is sharing a tasty Vanilla Mocha Iced Coffee recipe. Perfect for this in between seasons weather.
And have you ever looked at those filters and thought, there must be another use for them.  Well you're right!  We have a List of 10 Creative Uses for Coffee Filters.
One Weird Trick Saves Me $125 a Month in Groceries- Sarah Titus
10 Ways Thrifty People Use Things Up to The Last Drop- Snails Pace Transformations
Inside Out Carrot Cake Muffins- Luv A Bargain