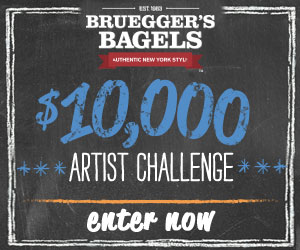 Are you at all artistic, or know someone who is?  How would you like to win $10,000 or a year of FREE Bagels if you're art is selected in the Bruegger's Bagels Artist contest!
Make the Bruegger's bakery your gallery. Now through March 16, we're searching for the best artwork to display in select bakeries nationwide. Start sketching and $10,000 in cash (not to mention bragging rights) could be yours.
ENTRANTS — All artists aged 16 and up are invited to participate in Bruegger's $10,000 Artist Challenge. Must be a legal resident of the United States.
PRIZES — The winning entry gets the $10,000 cash Grand Prize. 2nd Place wins $500, and 3rd Place wins $250. The Facebook Fan Favorite will win a year's worth of bagels & cream cheese.
ARTWORK — Submissions will be judged based on how well they represent the Bruegger's brand. (If you're not familiar with Bruegger's, please watch the FB video for insight.) We're looking for your interpretation of the concept of Bruegger's, not literal representations of our logo or menu items. The winning artwork will be installed at our new flagship bakery in Minneapolis. This involves direct application onto a brick wall, so we can only consider two-dimensional, scalable artwork suitable for thermal transfer.
DEADLINE — Entries must be received prior to 11:59AM on March 31.